For tickets for any of our concerts, to book the Wedding Choir, or to book the choir for your event, contact our concert secretary, Ros Meehan, on 07862 736766
Saturday 7th July 2019, at St Brendan's church. Harwood

A great concert, with a great audience. The official Bolton Amateur Theatrical Society (BATS) reviewer said.....

" The Brixi Singers

Musical Director: Rory Wainwright Johnston

The sun was shining on a balmy Sunday evening and the Brixi Singers were on top form for their latest offering which opened with a beautifully sung White Cliffs of Dover complete with stunning harmonies resounding through the Church.

This was followed by Suzanne Marsh and Eleanor Hill who both displayed outstanding vocal ability with the Flower Duet from Lakme – just wonderful in every aspect of musicality.

Piano solo by Alan Beedie was very impressive, effortlessly executed Debussy' Arabesque 1 whilst Paul Stanley and David Griffiths impress as Tenor and Baritone together provide ear pleasing melodies accompanied by faultless flautist, Julie Leach.

Other numbers were equally top notch and, as act one closed, Ava Maria was delightful and brought a tear to the eye due to this moving performance by the ensemble, with solos by Paul Stanley, Suzanne Marsh and Wendy Henshaw – breath-taking

By comparison, the opening to act two offered a contemporary feel with a rousing Ain't No Mountain High Enough which caused many a foot to tap. Leonard Cohen's Hallelujah was brought to life, with the essential light and shade required for this piece, vocally masterful and conducted with a genuine passion by Rory. Elton John's familiar Can you feel the love tonight was well delivered; enchanting vocals resulting in a fierce crescendo that filled the Church

With several of the Brixi members accompanying each other, the true talent of this choir was there for all to see and the rapturous applause paid testimony to the appreciation of the audience.

If you have never experienced a Brixi performance, I urge you to ensure you book your tickets for their next performance. You will be blown away as I was, by the standard, quality and endeavour of this chamber choir and I can guarantee that you will not be disappointed.

Paul Cohen

BATS"
Saturday 30th March at 7.30pm at Bolton Parish Church – "Bach and Beyond!"




The first half of this concert consisted of pieces in German, with links to Bach. These included a simpler setting of the Magnificat, by Heinrich Schütz (1582-1672), and a setting of an Irish folk tale "Die Traurige Krönung" – the Mournful Coronation – by Hugo Distler (1908-1942). Taking advantage of having an orchestra, we also performed Handel's "Zadok the Priest", accompanied by the Parish church organ, which shook the rafters, and Haydn's "Insanae et Vanae Curae",. A first half of well known, and some not so well known, pieces.




The second half of the concert was Bach's "The Magnificat". Most people will know Bach's Magnificat, his setting of the Song of Mary, her response when the angel visits her to tell her she is going to be the mother of Jesus Christ. "My soul magnifies the Lord, and my spirit hath rejoiced in God my Saviour". It is one of Bach's most performed works, and we were lucky to be able to perform it in the wonderful setting of Bolton Parish church, accompanied by a baroque orchestra, including trumpets and timpani.

We had a really good audience, who appeared to really enjoy the concert, and we had some wonderful feedback. The Parish Church put on refreshments in the interval, so everyone could mingle, and chat about the concert. It was a lovely evening!






Saturday 1st December at 7.30pm at St Paul's church, Astley Bridge. The main part of the concert was "The Manchester Carols", but also included some old favourites, and some traditional carols in which the audience joined with gusto!
The Manchester Carols is a cycle of poems by Carol Ann Duffy set to music by Sasha Johnson Manning. Premiered in 2007 at the Royal Northern College of Music, the aim of the writers was to make the carol contemporary again and to reawaken us to its potential power in the 21st century. In this they have succeeded remarkably well, producing thought-provoking poetry which engages with the modern world and music which is instantly appealing and eminently singable. The piece was a challenge for us, but was so well received on the night, that we enjoyed ourselves enormously. And the Church members must have enjoyed it, as they have already booked us for December 2020!!
Autumn 2018 - Tour of Majorca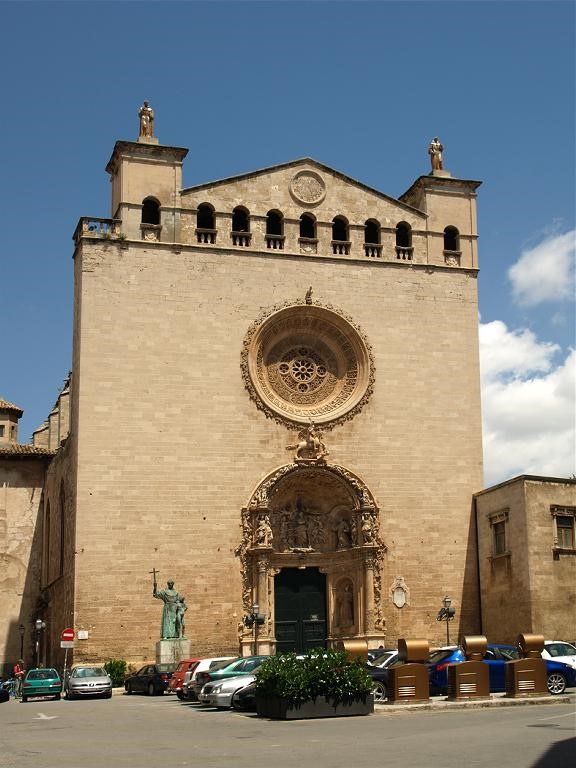 Saturday 27th October, 20:00h in the Church of St Jaume, Palma, Majorca. the priest said Mass first, and then at about 8.30pm, we sang a full concert. Richard Lea accompanied us on the church organ, and Eunice Coates turned the pages for him, and pulled out stops as requested. So of course, we sang Handel's "Zadok the Priest", and Colin Mawby's "Ave Verum Corpus". Other items included Rory Johnston's "O Sacrum Convivium", Eric Whitacre's "This Marriage", and Caccini's "Ave Maria", arranged for the Brixi Singers by Dr A H Claire. It was a wonderful church in which to sing, and we all enjoyed ourselves, choir and congregation!
Sunday 28th October 12:00h, we sang Mass in the Palma La Seu Cathedral, followed by a short concert of 3-4 appropriate pieces. During the Mass, accompanied by Richard Lea at the organ, we sang, amongst others, Thomas Weelkes' "Hosanna to the Son of David", the Sanctus by Thomas Tallis, and Viadana's "Exsultate Justi". During Communion, we sang Rory Johnston's "O Sacrum Convivium", and Cacchini's "Ave Maria", arranged for the Brixi Singers by Dr A H Claire. The three pieces after the Mass included Handel's "Zadok the Priest", and Henry Purcell's "Hear my prayer". The short concert finished with Colin Mawby's "Ave Verum Corpus". Most of the large congregation stayed after the Mass to hear these extra pieces, and the whole thing was very well received. It was wonderful to sing so near the Catalan Modernist work of Gaudi, which included an enormous crown-of-throns illuminated canopy that hangs over the altar. And we were so close to his redecoration of the chancel, using natural flower and leaf motifs, that we could have touched it. Not many tourists get that close!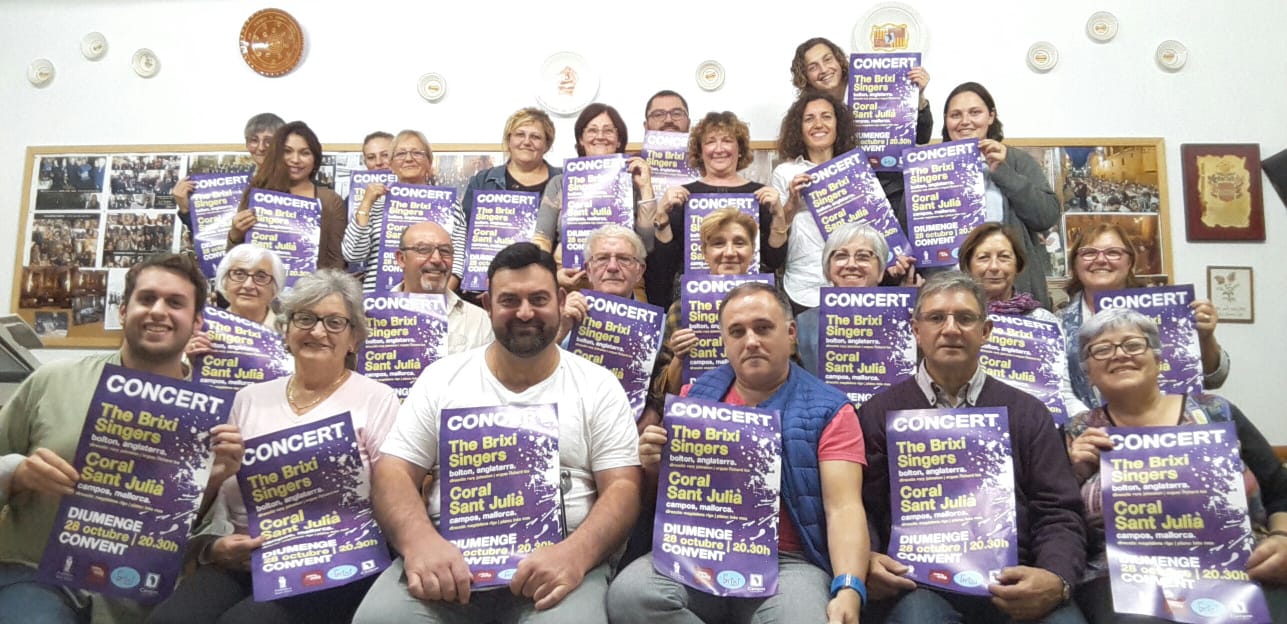 In the evening of Sunday 28th October, we travelled by coach to Campos, for a joint concert with the Coral Sant Julia. the picture shows the Coral, with posters advertising our concert, waiting for us. When we arrived, they were all waiting outside the church, and sang us a welcome. Nary a dry eye in the Brixi! The concert itself was amazing, and the Coral were very complimentary about our accents in the 2 joint pieces - (one of which was in English, so that was a bit of a cheat, "What the Lord has done in me"). The second piece was called "Te Quiero", which apparently means "I love you" - "como la tierra al sol" - like the earth loves the sun.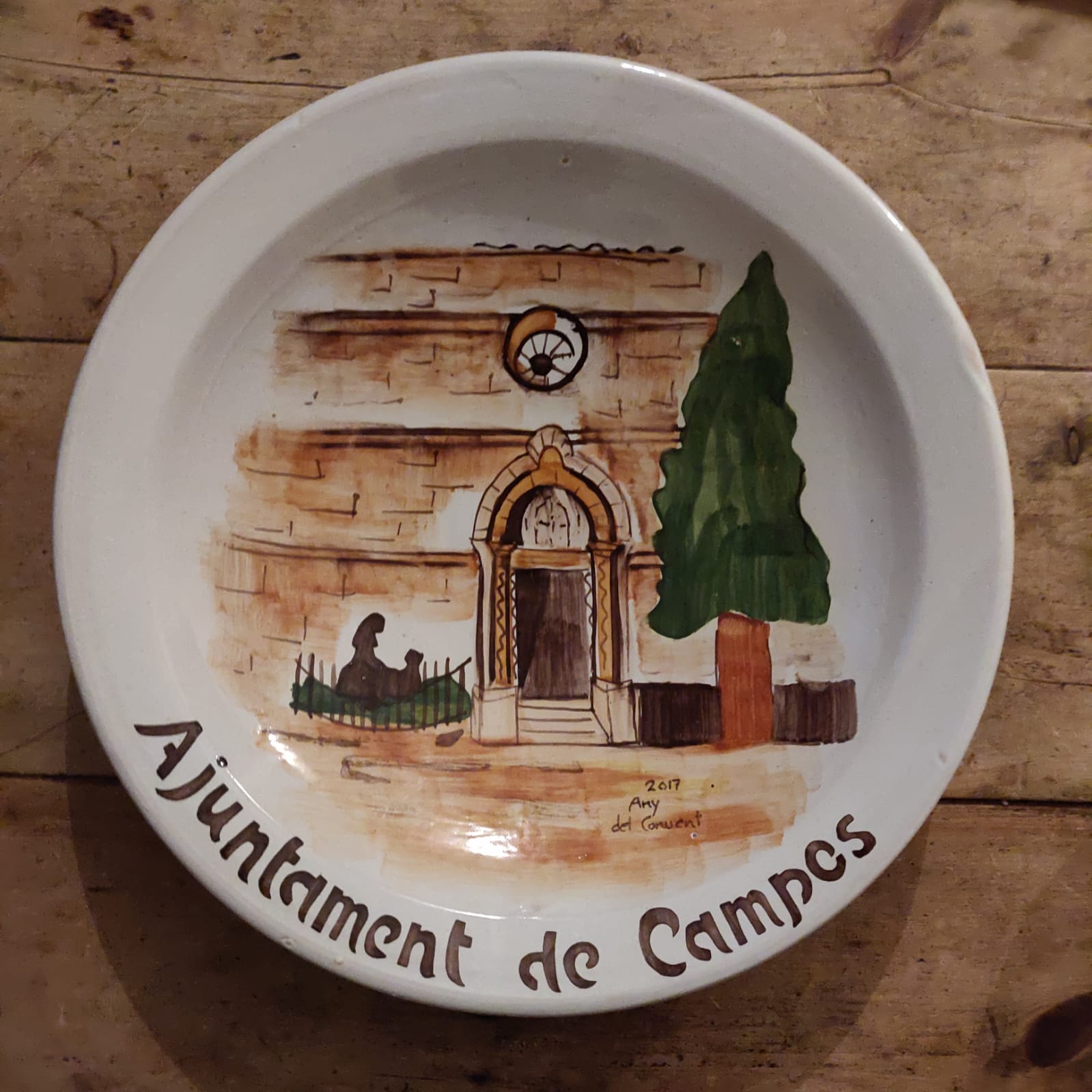 Campos Town Council had sponsored the concert, and at the end of the concert, one of the town officials presented each choir with a large dish decorated with a scene of Campos. You will be pleased to know that we got our large dish home in one piece, and it resides splendidly on Rory's sideboard! The evening finished with a buffet of Mallorcan dishes, lots of wine, and so much singing, it was almost another concert! The most marvellous aspect was that only 2 of the Coral spoke English, and very few of us spoke more Spanish or Catalan than was needed to ask for a beer. But it didn't matter. as the saying goes "where words fail, music speaks"!
Monday 29th October – we finished off with a short concert in the Dragon caves – Richard Lea conducting us in the darkness! A magical experience, though, to sing in a huge underground cavern, half the audience wondering where this music was coming from! We were then taken in a boat across the underground lake, so of course, we sang again!